Descrição
FTX SURGE 1/12 BRUSHED TRUGGY READY-TO-RUN (GREEN)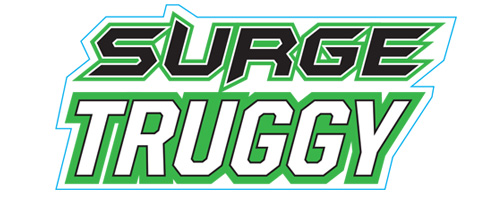 The SURGE is the latest addition to the entry level range of r/c vehicles from FTX. With four different models centred around a shaft driven 4wd chassis platform, there is a SURGE for every off road r/c nut.
Combining the features of a truck and buggy, the FTX Truggy is ready to rip around your local area. Featuring a custom finished low profile aggressively styled bodyshell, rear spoiler and race treaded low profile tyres mounted on wide offset spoked wheels, the Surge Truggy looks quick before you even get started!
Factory pre-assembled, the Surge Truggy just requires you to charge the Li-Ion battery and add some AA batteries for the 2.4ghz radio for you to be ready to tackle what lies ahead. A ball bearing supported, shaft driven 4wd transmission with geared differentials provides great drive-ability on most surfaces, and while the high quality aluminium oil filled shock absorbers soak up the bumps and jumps. Battery access is a simple affair via the hinged bottom loading battery cover, with the electronic speed control and brushed motor providing excellent scale speed.
Buggy, truggy and muscle = the Surge Truggy!
With a sub £100 price, the SURGE range is ideal for first time r/c fans who want more than just a toy grade model. Each model features some superb detailing and custom finshed bodyshells. Power and control is provided by a 2.4ghz radio system and electronic speed control, while a Li-Ion battery powers the brushed motor for excellent scale speed. In addition the ball bearing supported, shaft driven 4wd system and metal oil filled shock absorbers are something not seen on similar vehicles within this price bracket.
FTX Surge Features:
99% Ready-To-Run 1/12th Scale
Oil filled threaded body aluminium shock absorbers
Front andrear geared differentials.
Shaft-driven 4WD system.
Enclosed and centrally placed motor, electronics and battery for narrow and compact chassis platform.
Splash proof 2-in-1 electronic speed control and receiver unit
Conveniently rear-mounted switch for easy access
Easy access to batteries from underside battery hatch
Enclosed box type chassis on all versions
All four Surge models share around 85% of parts
Spec Check:
Length: 366mm
Width: 251mm
Height: 135mm
Tyre Diameter: 88mm
Tyre Width: 43mm
Required to complete
3 x AA Batteries